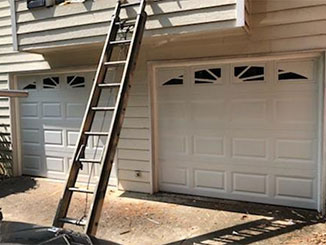 Although repairing garage doors should be left to professionals only, especially if there is a problem with springs or cables that needs to be solved; there are tasks any homeowner can and should do on regular basis.
Act as a Professional - Inspect

You need absolutely no equipment to visually inspect the whole system; you just need to know where to look and what to look for. Cables, springs and the chain (or belt) shouldn't be sagging, and should you notice the cable is frayed or see a gap in the spring - call a repair service. Both tracks should be straight, without debris and running parallel to each other. Rollers have to roll and not glide along the tracks - if the latter's the case, think about replacing them. If you see a bolt or screw is missing, replace it, and make sure the remaining ones are tight.

Apply some Lubricant

Metal on metal contact produces a lot of noise and also causes the components to become damaged more quickly. The simplest solution to both problems is lubrication. Just make sure you apply it to all metal moving parts, including the springs. Don't lubricate the tracks, only the metal rollers in them. When you're done lubricating, remove any dripping product by wiping it off and then operate the system a few times so the product can spread out more evenly.

Check the Safety Features

To see whether your door is well balanced, try lifting it in manual mode with one hand - it should go up smoothly and stay in position when left open halfway up. To test the opener: put an obstacle in the center of the doorway and click the close button. Your door should go back up the second it reaches the obstacle placed in its path. Finally, check the photo eyes. Break the infrared beam between the sensors while the door is closing and see what happens. If everything's OK, the door should reverse its movement.
If you don't feel like this is your cup of tea, or if you've run into a problem during maintenance - call us and we'll take it from there!