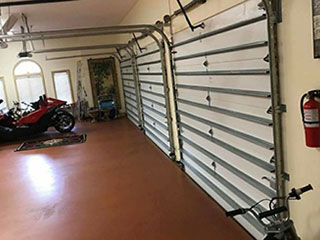 With the proper amount of care and attention, your garage door system will be able to serve you for a very long time. There are a lot of things that can start to malfunction, but the great majority of them can be avoided with the right maintenance routine.
An All-encompassing Service
Our technicians will check every part of your door system, from the largest exterior panel to the smallest fastening screw. We'll make sure all of the different components exhibit no signs of damage, and that the system can open and close without any issues whatsoever. If during our examination we discover some part that's not in optimal shape, we'll repair it or replace it with a new unit, to prevent it from breaking down and creating a problem later on.
Proper Spring Service
As part of our scheduled appointments, we'll conduct a balance test on your door, which will let us know whether or not spring adjustment is required. This type of task can be very dangerous, so it's important that you let professionals (like our team) handle it. While we're at it, we'll also lubricate these components, so that their performance stays silent and efficient.
Opener Safety Tests
We will also make sure that the features that prevent your motor unit from harming you or any of your family members are fully functional. We'll check the alignment of the photo eyes sensors the unit uses to detect obstacles, as well as the auto-reverse feature, which forces the door to open back up if it encounters resistance when trying to close. These are vital tests that must be conducted on a regular basis in order to ensure that the system isn't jeopardizing anyone's safety.
Our Team is a Phone Call Away
If you want to schedule a maintenance appointment, or you find yourself in need of emergency spring replacement services, rest assured that our professional technicians at Garage Door Repair Valley Center will be happy to assist you. Give us a call today.
Let our team take care of it for you!

Part Replacement & Lubrication

Oil Tempered Torsion Springs

Opener Clicker Repair

Bottom Seal Rubber