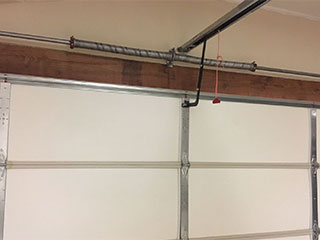 The use of automatic garage doors has become fairly common. This is because people have grown accustomed to the idea and the convenience of automating as many aspects of their lives as possible. Without the springs that carry the majority of the weight of these heavy door panels, your chain or belt drive opener would not be able to open and close the door for you. This is the reason why these components should be well taken care of, and a broken spring needs to be replaced as soon as possible.
A Little Elastic Assistance
Garage doors can be incredibly heavy, depending on the material they're made of and how insulated they are. If you have a wooden door or a steel one, it's not unlikely for its panels to weigh upwards of two or even three hundred pounds. With such a heavy weight, it's no wonder then that the springs this type of mechanism uses have to be so strong. The tension that these components need to generate is enormous, which is why they can only last for a limited amount of time before they end up breaking.
How Springs Work
There are typically two different types of garage door springs. One type works by extending and contracting. These are the extension springs, and they are usually installed in a pair, each one mounted on a different side of the door, parallel to the horizontal tracks. The back end of each unit is attached to a special bolt or hook. The front end is attached to a pulley. When the door is in the closed position, these components are stretched and loaded with tension. During the opening, this force is released while these components contract, which helps lift the weight of the door. Torsion springs, which are the second and relatively newer type, work very differently. They're usually strong enough that only a single unit will be needed. They're installed above the door, across a horizontal shaft which rotates as they twist or unwind, and conveys the torque the spring generates to lift cables which connect to the bottom of the panels.
Broken Spring Replacement
After a spring reaches its breaking point, it will fail. This could take as little as three years or as much as seven or even fifteen years, depending on its type, and whether or not it undergoes proper routine maintenance. Extension springs have shorter lifespans, while their torsion based counterparts are stronger and more flexible, and can last for a significantly longer time. When a unit breaks the door isn't properly supported anymore, making it liable to slam shut unexpectedly. Our team provides high-quality garage torsion spring repair services, as well as emergency replacement and routine adjustment. If you need any help with anything involving these components, don't hesitate to contact our team at Garage Door Repair Valley Center.
Want more? Let us take care of:
LiftMaster Garage Door Maintenance
Door Opener Troubleshooting Services
Emergency Broken Spring Replacement
Residential Garage Door Replacement