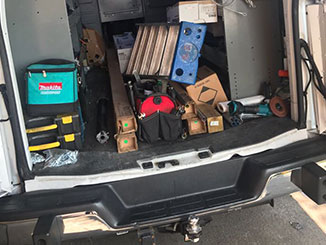 An automatic garage door consists of many interconnected parts, both electrical and mechanical. There are lots of things that can go wrong with such a complex system, from broken springs to bent tracks and even damaged drive chains. In order to safely and effectively repair these issues, professional training and experience are an absolute must. That's why you need to reach out to our team and let our technicians handle any type of issue you encounter.
Broken Spring Replacement
The springs your door uses to support its weight will wear out over time - it's not a question of if they need replacing, it's a question of when. The time this takes can vary quite significantly, but after a few years it's generally necessary to adjust or replace your torsion or extension springs. Remember, don't try and do this yourself; these components are under a lot of tension, and can be very dangerous when they're mishandled.
Opener Drive Issues
Your motor unit is one of the most crucial parts of the entire garage door system. Unfortunately, as important as it is, it can develop many problems over the years. A common problem is a faulty drive; this can often occur when the chain breaks, or the belt begins to tear. We work with all of the industry's top manufacturers, such as LiftMaster, Craftsman and Genie and we can provide high-quality replacement parts and even a completely new opener if that's called for.
Damaged Door Panels
If you've got a visually appealing garage door, the last thing you want is for one or more of its panels to become dented. Not only does this spoil the aesthetic curb appeal of your home, it can pose a significant security risk, giving thieves a potential place to lodge a crowbar in order to break in. Our team can quickly remove minor dents and damage from door panels, and we can also replace entire sections, if the damage is too severe.
Reach Out To Us Today
Our team works quickly to provide a solution to any problem our customers may experience. No matter what type of issue you're having, we're confident that we can deliver an effective solution. Contact Garage Door Repair Valley Center and let our experts help you with whatever you need.
Count on us for:

Roll up Garage Door Maintenance

Genie Garage Door Opener Services

Galvanized Torsion Spring Installation

Garage Door Cable & Track Repairs