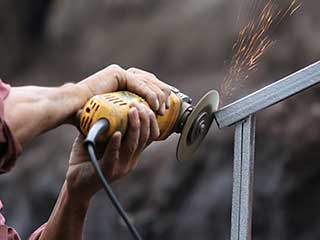 The key to maintaining a gate properly is to ensure that all its parts are always in good working condition. In addition to doors, we at Garage Door Repair Valley Center also take care of all types and models of gate parts.
An automatic gate being an electromechanical unit contains both moving and stationary parts. All these parts are prone to wear and tear. And despite being rated for years, they can go faulty quickly due to mishandling or rough use. While repairing should be your first option, we must also look at replacement if it provides a long-term advantage.
Here are three common parts repair and replacement scenarios:
Gate Opener Not Working
The gate opener is the most important part of a gate as it is the one that carries out the ON/OFF operation. Although most gate openers from brands such as Doorking and Aiphone are known to function for years, they are constantly exposed to external elements like rodents and insects, sunlight, water droplets, dust, and other tiny particles. Any of these can lead to truncation of the opener's longevity. And it may require a repair or replacement based on the fault.
Damaged Intercom Due to an AC Surge
This is a common cause of intercom damage, where a surge or spike in the AC power supply fries the internal circuit. While this can be repaired depending upon the degree of damage, we recommend that you install a central power regulation system to prevent any incidents. It will not only extend the lifespan of your intercom but also protect other electrical items like gate and garage door openers.
External Elements Obstructing the Gate
This may sound absurd but we assure you that small rocks and branches fallen off trees can adversely affect an opener's operation. Such small pieces can get in the way of the chain in the motor or obstruct any other moving parts, thereby affecting the operation. If they are not immediately removed, they can even render the opener unrepairable.
For all your repair and replacement needs – count on our team for a professional job on every service call. We provide a wide range of gate repair services and are known for our cost-effective and reliable work throughout Valley Center. Contact us today!
In addition, count on us for:

Aiphone Gate Intercoms

BSL Gate Opener

Ornamental Iron Gates

Gate Motor Repair