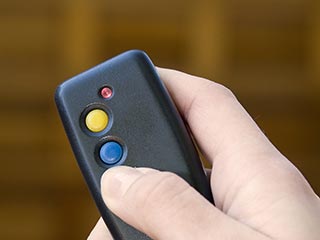 Are you looking for a garage repair door service provider you can count on? Then you've found the right company. The range of services our team at Garage Door Repair Valley Center offers is very wide and includes anything from broken spring replacement to opener motor repair. You can also count on our professional installation services for new doors and opener models. We're one of California's leading service team due to our commitment to customer safety and satisfaction.
Our Specialities, Your Benefit
Our experts will be happy to consult you on the different factors that you should carefully consider before making a decision. Whether you're looking to get a new insulated garage door with steel panels, or a beautiful wooden model that will perfectly match the classic look of your home, we'll be happy to help. Our team will explain the benefits and requirements of every available material, and once you've made your choice, we'll carry out the door installation process and make sure that the system can open and close without any issues.
Emergency Repair Services
Whenever an unexpected problem renders your garage door inoperable and you need a fast solution, you can count on our team. If a broken spring or cable needs to be replaced, or if your door suddenly refuses to open at all, our technicians will quickly come over, troubleshoot and repair the problem.
Replacing Door Panels
Sometimes it's your door itself that can be damaged. Whether you have wood or steel panels, our experts will be able to help. We'll help you find matching sections from the door's original manufacturer, and then we'll carefully remove the damaged parts and install the new panels in their place, making sure not to damage the insulation and to leave no gaps between the sections.
Trouble With The Opener
There is no type of problem with your motor unit that our team can't handle! From small issues like the wall switch not working or the remote control failing to function, to major problems like a broken motor gear or damage to the drive system (broken chain, torn belt). We can also help you find a new unit with advanced technological features that will help keep your home safe and secure.
Get Fast Local Assistance
Whatever issues you may be dealing with, our experts are only a phone call away. Not only do we offer professional garage door repair and maintenance, we're also happy to provide expert advice to help keep you informed on how to treat your system and help you avoid future issues.
Contact Us Today!

High-Quality Products

Weekend Appointments
Highly Skilled Experts

Satisfaction Guaranteed